Rich and I were discussing Einstein's theory of relativity today because that's the sort of conversations we have when I already have a headache. I have my own theories of the relativity of time, and how when drama happens, a day can seem like a week. I know this doesn't have anything to do with Einstein's theory – or does it? Do time and space slow down when you are in the grip of occurrences that bring you sorrow, or "gravity" if you will? Does the gravity of a situation glue your feet to the ground in a way that makes you gain the weightiness of it, making it harder and taking longer to carry across the day? 
I lost people that were close to me these past few weeks, and it's brought space and time together that has me sifting through childhood memories, the decades that followed and a future without loved ones that were a foundational force for good in my life. That's for another blog. 
Amidst all of the unexpected grieving, I had scheduled my first tattoo with @chiahtattoos at Stay True Tattoo. Here it is…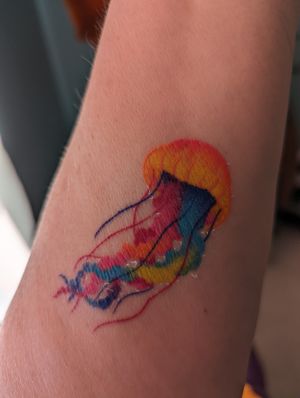 Why a jellyfish? Aside from the obvious reason, i.e. Jellyfish on the Moon, I wanted to get a tattoo on my forearm so that when I play guitar, it looks up at me and it reminds me that I can do big things. Putting out an album, promoting it, working hard to get DJs to play it – especially when you are doing it yourself, takes a lot of a certain thing that comes naturally to people that don't have ADHD. That thing is "executive function".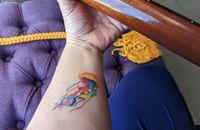 ADHD is something I have to manage, and it is manageable for the most part – I wouldn't be where I am today if it weren't. But oftentimes, it is difficult. It makes life seem more troublesome than it is, and has me feeling, well . . . topsy turvy, as the song says. Wait, what? Still haven't listened to the song? Click here for links!
So it is bright and colorful, and reminds me that so is life, filled with its unknowns, its ups and downs, its ability to make me feel topsy turvy more often than most. I look down to it when I play guitar, and it reminds me I can do big things. Just wait and see.
#Tattoo #jellyfishonthemoon #jellyfish #NASA #singersongwriter #songwriter #jellyfishtattoo