My performance went well. I was in-the-round with two other Philadelphia Folk Festival Campfire Contest winners, Bunny Barnes and Jerry Korobow. We were an eclectic bunch, with Bunny playing beautiful guitar instrumentals, and Jerry playing bluesy folk favorites. It was truly a "Kaleidoscope Folk" song circle. Kaleidoscope Folk is a made-up genre that I know will catch on one of these days!
It was not without some calculated risks and stresses: my husband, Rich DeAngelis, was recruited by me a few weeks before to play percussion, which he did happily and did well even though we've never played together. Also, my guitar's nut needed to be replaced just days before, which led to using my Martin, which led to a last-minute decision to put a pick-up in my Martin D15, thanks to Brian Huff - so grateful!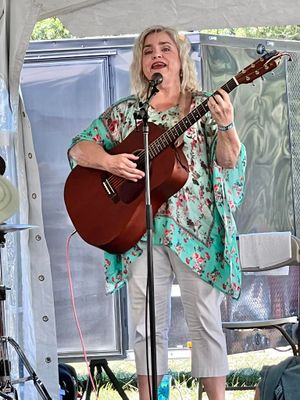 How do you measure success at the Philadelphia Folk Festival?
Hopefully, not by how many CDs you sell since I only sold one!
Hopefully not by how many people heard you, because although the Culture Tent was full, and mostly with people I already knew, I really don't know how many people ventured on the livestream to listen in. 
Hopefully success isn't measured by compliments, although it's tempting for a musician to bask in that glow. I got great feedback from friends and some strangers, and trust me, that feels great!
I've thought about this a bunch, and the only way to measure success for me is to ask myself if 10-year-old Lisa Jeanette would have been proud of me. She's the one that had dreams of being a musician. She's the one that was confident in her musical abilities, unafraid and undeterred by well-meaning naysayers. 
Somewhere along the way I became more afraid, easily discouraged and I felt less special. But 10-year-old me? She was fierce and ready to take on the world.
10-year-old me loved this weekend, had a fun time and lavished in the healing warm rays of the smiling banjo. Success feels good.
Photo credit: David C. Perry